Doshisha University's first educational dormitory opened
in September 2021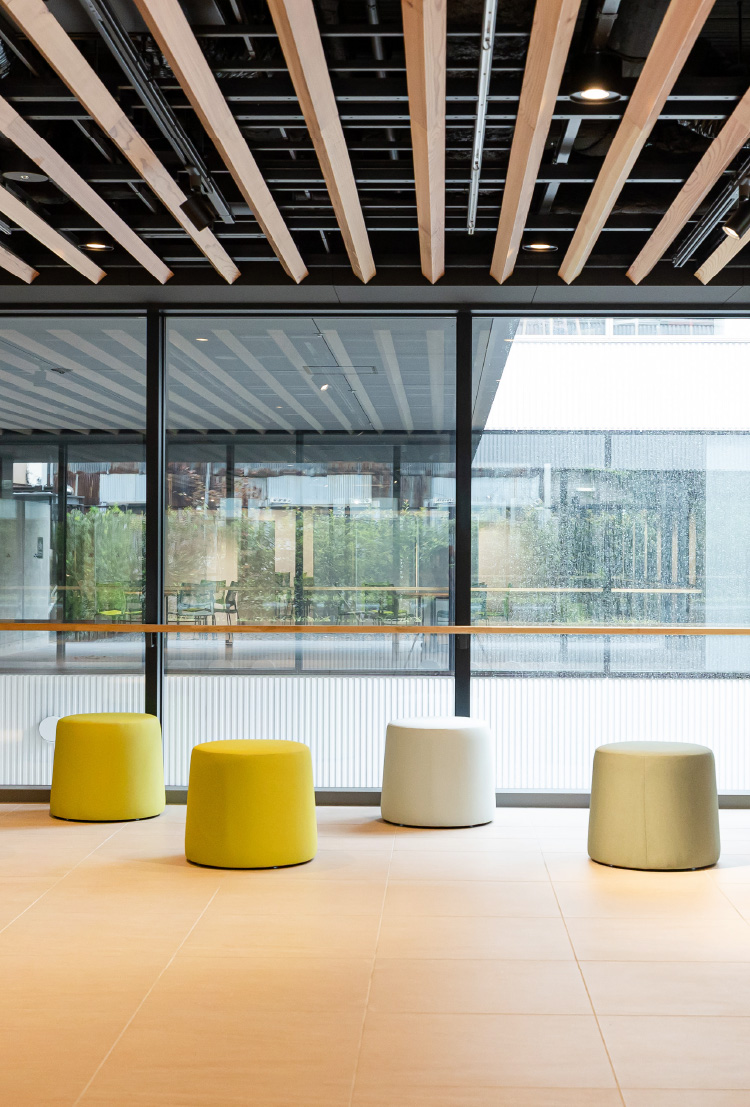 Keishiryo Dormitory
Understanding different views and values,
and developing new creative ideas out of differences
We opened our first educational dormitory as the realization of "a dormitory where both domestic and international students live and study together without distinction" as introduced in Doshisha University VISION 2025.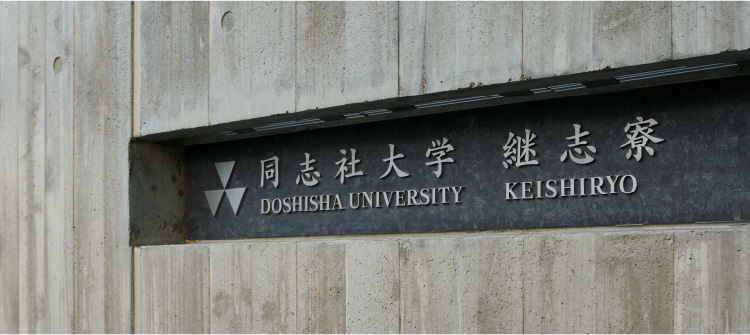 "It is my hope that someone
will inherit my will and make
this project a success."
Joseph Hardy Neesima
The name Keishiryo (継志寮: "継" means "inherit" and "志" means "will") was taken from the letter written by our founder Joseph Hardy Neesima on December 10, 1889, shortly before his death. In the letter, explaining the meaning of a poem he made, he wrote "(In this poem,) I express my hope that someone will inherit my will and make this project a success." The name of the dormitory represents our hope that its residents will grow into individuals who inherit the "will" of Neesima and other Doshisha people and lead the way towards its realization.
GLOBAL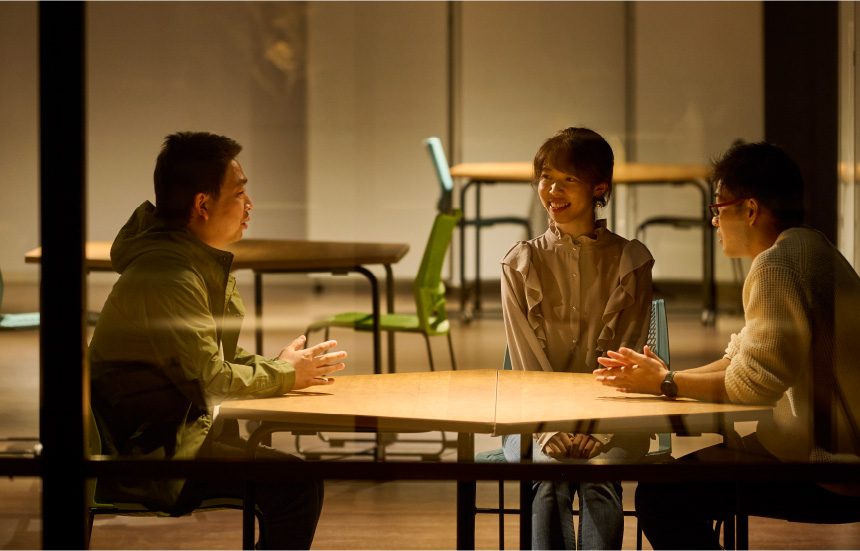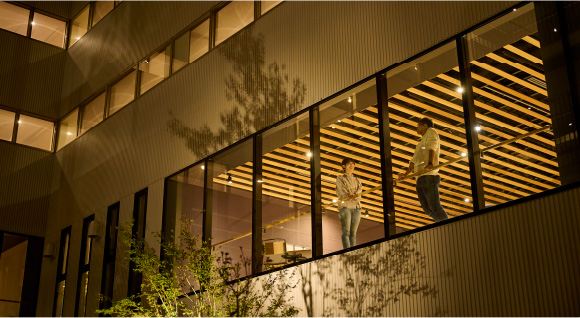 A unit is occupied by five residents consisting of two international students and three domestic students, and each floor consists of 16 units, accommodating 80 students (32 international and 48 domestic). Students with diverse backgrounds are mixed and learn about their different views and values as they live together and interact with each other. The first floor is designed to accommodate 20 short-term international students, allowing the residents to communicate with students coming to Japan for short-term programs.
FACILITY
1
Entrance
The entrance, where all residents pass by as they go in and out of the building, has a space for events and displays, allowing residents to gather and plan projects together. It also serves as a meeting space for when they are visited by parents or acquaintances. The second and third floors are accessible by the elevator and stairs in the entrance, both of which are for exclusive use by residents. Entrance to the residents' area requires an IC card, enhancing the security level to allow access only to residents.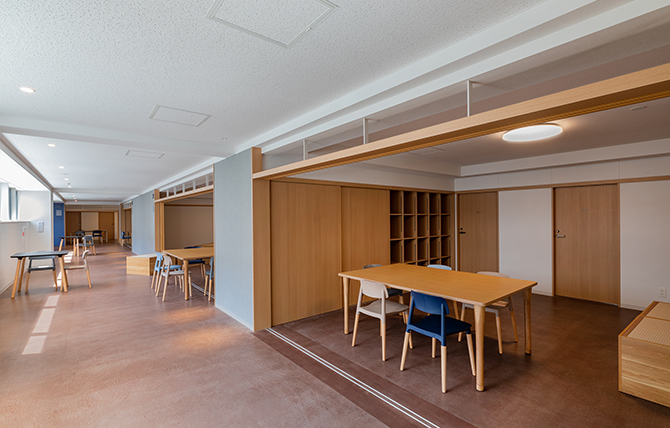 2
"Kaiyu" Lounge
Instead of the traditional concept of a corridor, the traffic line of residents is called the "Kaiyu (stroll-style)" lounge with more opportunities to meet with everyone on the same floor on a regular basis. This "Kaiyu" lounge, loosely connecting the community lounge and the living room of each unit, provides a space for relaxed communication with a sense of natural light, breeze and greenery.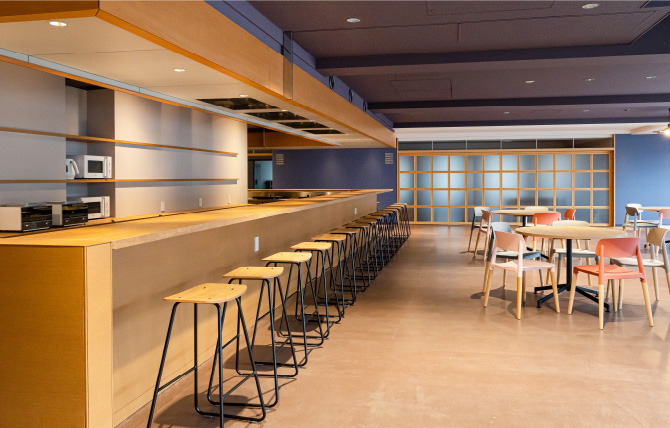 3
Community lounge
Located at the center of the building, the community lounge is the most vibrating space that can accommodate a large number of people. It is easily accessible from every room, and has a cafe-style eat-in kitchen where residents can prepare meals everyday. It can also be used casually for self or group study or for planning group projects. Together with the surrounding Kaiyu lounge and unit living rooms, it creates a vast space brighten by the light entering from the adjacent courtyard.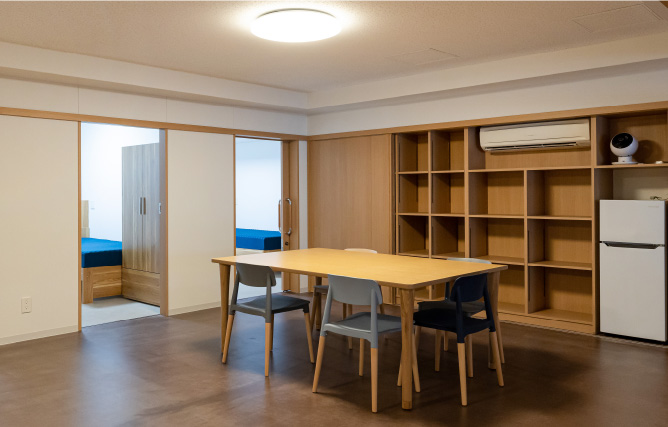 4
Living room
The living room is provided for each unit of five residents and is located in front of their private rooms. The five members of the unit can use the space for group study or planning a group project, as well as for relaxing individually, enjoying reading and other activities. When the doors are open, the living room also serves as an extended space connected with the Kaiyu lounge for communication with other residents walking by. On the wall facing the Kaiyu lounge is a message board, on which the unit members can display their group study outcomes or information on their project.
5
Private room
Private rooms have a simple structure with minimum necessary furniture and space, to encourage residents not to spend too much time by themselves in there. However, as individual learning is also important, the desk and the chair are placed beside the window to help them concentrate on their studies. Each room also has a veranda where the laundry can be hung.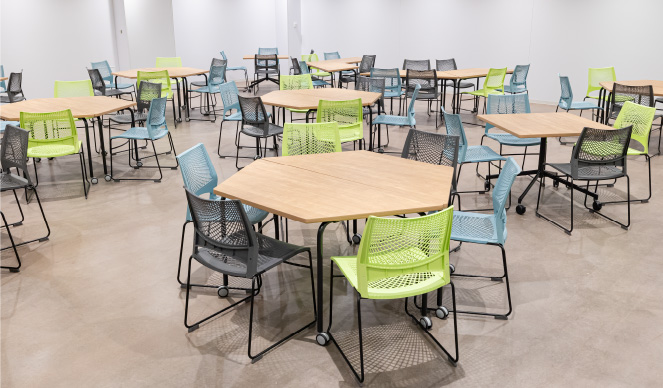 6
Workshop room
Workshop rooms are located in the basement and on the first floor. Residents from different floors can spend time together in a workshop room. Desks and chairs are all movable and the layout can also be changed freely, enabling discussions and presentations by various numbers of people. In addition to the multi-panel whiteboard partitions equipped in both the basement and first-floor workshop rooms for use in a variety of ways, the basement workshop room also has whiteboard walls, facilitating active discussions.
GALLERY